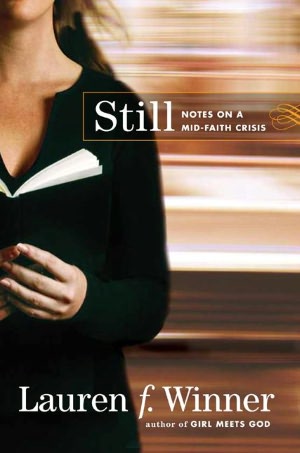 A few weekends ago, I went up to Seattle for the Search for Meaning book festival, and brought along a copy of Lauren F. Winner's new book, Still: Notes on a Mid-Faith Crisis. It was the perfect read for a long train ride and a weekend of lectures from writers on spirituality, faith, and social justice.
I discovered Winner's first book, Girl Meets God, through writing this blog, upon a reader's suggestion. That was Winner's book about her conversion to Christianity; Still is about what happens after conversion, the much longer and usually much less dramatic story of living into faith.
When we think about a crisis, if it's the mid-life variety, the story usually involves an abrupt change in career, lifestyle, or at the very least, a new car. A mid-faith crisis is different. The crisis to which Winner refers is less an event in and of itself, than the very uneventfulness of the middle part of a faith story. The crisis is that there's no crisis. None of the powerful drama of a conversion experience, with which to shape one's prayer life, through which to feel one's connection to God. Meditating on the concept of being "mid" faith, one gets quickly tangled in the ineffable: how to describe the complex interrelationship of God, self, community in chronological terms?
While there are certainly crisis events in the book, such as the loss of her mother and her divorce, the story is about Winner's apprenticeship as a person of faith. It's sort of a non-story about a non-event, gracefully shaped into a narrative through short chapters. These "notes" draw forth questions rather than conclusions about God's existence and hiddenness, the hills and valleys of prayer, trust and anxiety.
"The middle" plays a key role in this book, as metaphor for all that is murky and unknown in life. The middle's not often looked upon with appreciation. We speak of getting stuck in the middle, or lost in the middle of nowhere. It's not a very attractive place. It's the place you want to run from, and the place that has the most to teach you. It's a wonderful metaphor for contemplating the interaction of our purpose-driven egos with the much more soul-concerned body of mystery.
In the preface, Winner describes this place not as a milepost along a journey, but as a room in a house. "Something will show up in this room, and what shows up will be faith. I am less certain now than I was ten years ago, but I sense that this place is certain." What I love about this reflection, and about the book, is how it shifts the location of certainty or uncertainty from within the self to outside of and containing the self. If a crisis of faith comes from the fear of unknowing what was once known, then the deepening of faith grows out of surrendering to that unknowing, and trusting that it is known by God.
When I went up to Seattle for the weekend, I was finishing a paper on how modern poems end. I laughed when I read this bit from Don Fowler, one of the many great epigraphs included in Still: "There is an abundance of work on opening and closure, but very little discussion of what comes in between." Here I had been reading Poetic Closure, a 1968 scholarly study of how poems end, focusing on traditional poetry, and feeling very much the opposite. I had a hard time finding contemporary literature on closure in poetry, and the sense, in reading an anthology of experimental poetry, that poetic closure might be in crisis. Or to put it more accurately, in transition.
Fowler's words, and the rest of Winner's book, opened my eyes to the peculiarity of focusing on beginnings and endings, to the exclusion of the bulk of a story, a life, a poem. The middle is a kind of cultural blind spot, and modern poetry's resistance to traditional methods of closure seems to me a sign of the creative consciousness endeavoring to  reflect our changing understanding of experience.
Closure is a fiction, I wrote in the margin, a snapshot of a continuing. Poems and books, being limited by ink and paper, have to end somewhere. Still ends with a series of questions and answers with Winner about the process of writing the book. She writes about reading Falling Upward, by Richard Rohr, who suggests that in the second half of a spiritual life (after the dust and glitter of conversion have settled), "you may find yourself reading a lot of poetry…you like the space that poetry offers. I read Rohr and thought it was no coincidence that most of what I'd been reading [while finishing Still] was poetry."
In Poetic Closure, Barbara Herrnstein Smith suggests that "the poet reveals the ideal truth, the truth of the heart." I would go a step further and say that good literature in general does that. The truth of the heart doesn't always adhere to real-time chronology. Its story might not fit into the container of beginning, middle, and end. Still does a wonderful job of telling the truth of one heart, without forcing it into an artificial shape. This, in turn, allows us to find our own truths within it, and maybe feel a little more able to speak them.